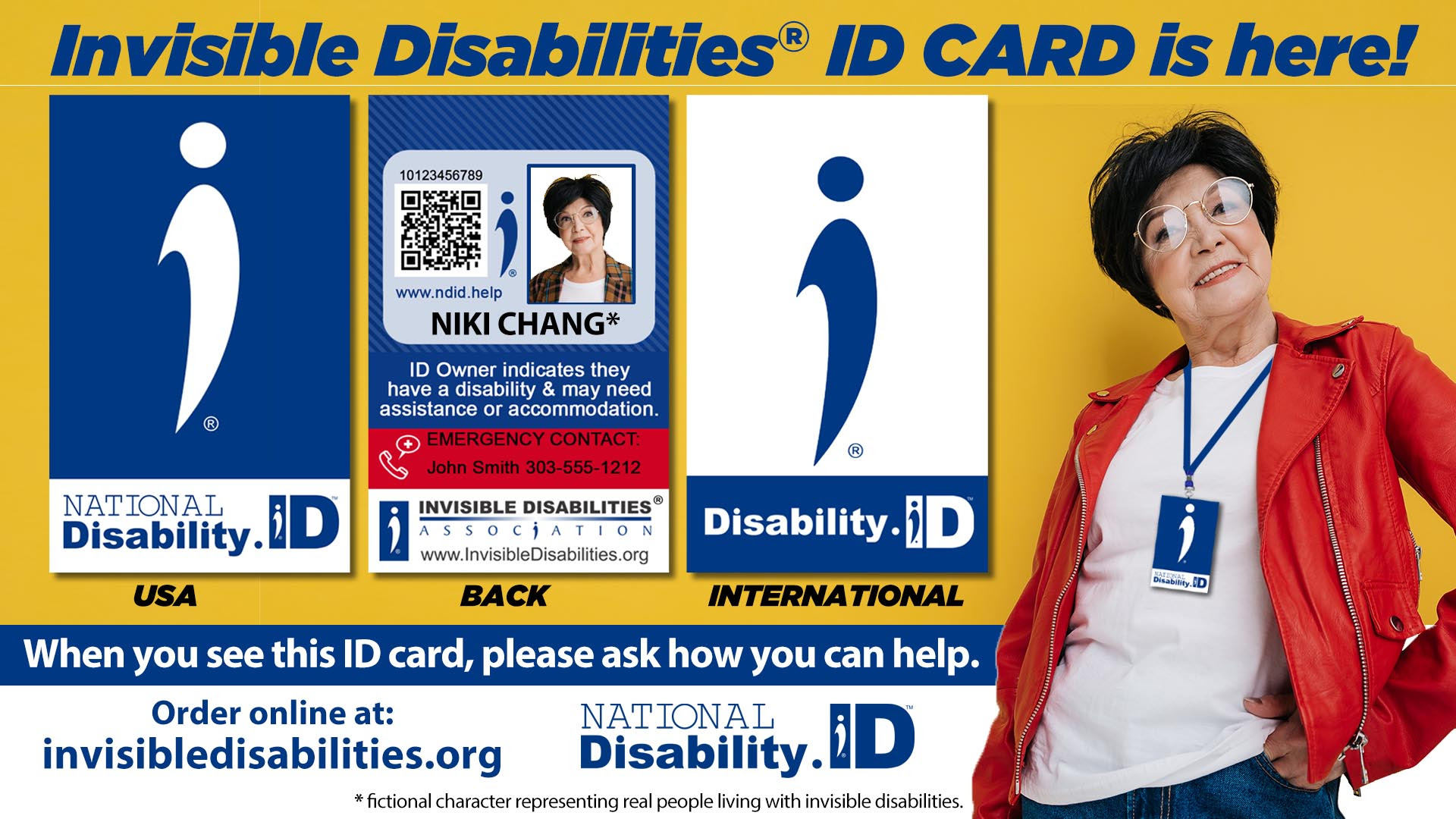 Invisible Disabilities Association (IDA) has been working to provide for an identification card for people living with invisible disabilities (or any disability) to use in situations like walking into a store, or being pulled over by law enforcement, or in any other first responder situation for example.
Please support their legislation before the 24th by email or providing written or video testimony. Instructions are below and if you want to help but need assistance just contact me by john.kelty@meaction.net or message me.
The program will be all voluntary, only those who want would be in the program. Imagine you or your loved one with ME having an ID on your drivers license or an entry in a license plate database that identifies your disability (if you want!) so an officer won't expect you to have to walk if you have POTS or severe fatigue, or might anticipate your mental fog making conversation harder.
Please join in our support of IDA's marquee legislation by emailing the state House Transportation committee (instructions are below) or signing up to testify by writing or video conference (really impactful and way easier than it sounds like!) following instructions from IDA below:
Our Colorado bill, HB21-1014, the disability symbol identification document, has been re-scheduled for hearing in the House Transportation Committee Wed., March 24, 2021 at 1:30.
The goal of this bill is to help identify those with disabilities to law enforcement and to prevent interactions that occur with people with disabilities from escalating.
THESE OPTIONS FOR IDENTIFICATION ARE STRICTLY VOLUNTARY, MEANING THAT IF A PERSON DOES NOT WANT THEM, THEY DO NOT HAVE TO GET THEM.
Designated Symbol on Government ID. This is a discrete symbol on a person's driver's license or other government ID that allows for identification as someone living with a disability. The symbol is voluntary, and the lack of the symbol does not mean someone does not have a disability. No information is stored or available about the person's disability.
Database for Vehicle. This allows a person registering a vehicle in Colorado to include a field containing information to be provided to law enforcement upon querying a vehicle's license plate to advise if a driver or regular passenger in the vehicle may have a disability or be neurodiverse. No information is stored or available about any disability unless voluntarily made known by the applicant.
Training. The Department of Revenue will provide training for law enforcement and DOR employees to inform them of the presence of these fields and information they may contain.
Here is how YOU can help support this legislation:
You can provide testimony to support this bill in three ways: written, remote speaking or in-person. Here is the link to sign up to support through your testimony.
1. Write an email to every person on the Transportation Committee asking for their "yes" vote. Templates and contact info below.
2. Sign up for the bill testimony (written, remote or in-person). Here is the link to sign up: https://www2.leg.state.co.us/CLICS/CLICS2021A/commsumm.nsf/signIn.xsp
3. Share with everyone you know that you feel can help get our voice out there for this effort.
SIGNING UP FOR TESTIMONY: Once you're in the system (by clicking the link above), choose sponsor and bill (Michaelson-Jenet), Meeting time (March 24, 1:30pm), and hearing item (House Transportation & Local Government HB21-1014 – Disability Symbol Identification). Then follow the rest of the prompts to submit how you would like to testify for this and your information. Here is a video that can help you through the process to testify. https://coleg.app.box.com/s/eiuzh3ld59q4ad8vohxb1zaup27zp2tn
Send the following email with your name to each of the contacts for the House Transportation & Local Government Committee:
Tony Exum, Sr., Chair tony.exum.house@state.co.us 303-866-3069
Matt Gray, Vice Chair matt@matthewgray.us 303-866-4667
Jeni James Arndt, Rep., jeni.arndt.house@state.co.us 303-866-2917
Marc Catlin, Rep., marc.catlin.house@state.co.us 303-866-2955
Meg Froelich, Rep., meg.froelich.house@state.co.us 303-866-2921
Edie Hooton, Rep., edie.hooton.house@state.co.us 303-866-2915
Andres Pico, Rep., andres.pico.house@state.co.us 303-866-2937
Janice Rich, Rep., janice.rich.house@state.co.us 303-866-3068
Tom Sullivan, Rep., tom.sullivan.house@state.co.us 303-866-5510
Donald Valdez, Rep., donald.valdez.house@state.co.us 303-866-2916
Kevin Van Winkle, Rep., kevin.vanwinkle.house@state.co.us 303-866-2936
Email Template and/or written testimony written for PWME. (cut and paste, and you can tweak as you want to include your own reasons for how this bill would help you or others). If you are writing on behalf of someone with ME, change the wording around that slightly.
Dear House Transportation & Local Government Committee Representative,
I have the invisible disease myalgic encephalomyelitis (ME). The disease prevents people with from having normal mental and physical energies. We may look normal but not have the energy to walk or even stand. Stressful situations like with a law enforcement officer may make us operate through a "mental fog" that impacts conversation. This program will help both people with ME and other invisible disabilities, as well as law enforcement officers by mutually helping their interactions.
I am writing to ask for your support and "yes" vote for HB21-1014, the Disability Symbol Identification bill in hearing on March 24, 2021. This bill provides for a voluntary symbol on a government ID and/or registration in the license plate database that allows for law enforcement to know that someone being pulled over may need accommodations or help in the interaction.
This bill also begins the process for creating new training for Peace Officers in better ways for interacting with people with disabilities or neuro diversities that will be addressed in HB21-1122, which you should also support.
Getting the symbol or registering in the database is completely voluntary, so for the people that are worried about discrimination, they do not need to get this. But please do not stop it for those who really want this type of support, such as the Deaf, people with mobility issues, people on the Autism Spectrum and other neurodiverse communities.
I thank you for your support of Colorado HB21-1014.
Sincerely,